Sandy Jo
June 18, 2019 16:38:58 (EDT)

So sorry to hear about "Doc". He was a long time friend of my father, going back to the day that they both worked for Triangle. A great loss for all of us.Thank you all for your kind words. My Dad, known at kamp as "Doc", loved the many, many life-long friends he made at kamp, and was looking forward to the next reunion. Alas, so many memories lost. His career in broadcasting started at kamp. One example: during Red and Black week, he... (more)reading is obit, the best pp "The Cheltenham High School grad got his start in television, then a fledgling enterprise, when he was an undergraduate at the University of Pennsylvania, helping to develop commercials for Dutch Boy paints using a marionette he made in summer camp." HMMMM, which... (more)may Doc Klein's memory be a blessing to all who knew him. https://www.inquirer.com/news/lew-klein-temple-university-obituary-20190613.html

A Sad Day For All Kewaneans. Steve, our thoughts are with you. We are all among your support group

So sorry to hear of the death of Doc Klein. It was on TV in Philadelphia. He was 91 and a wonderful man. So kind to everyone. He will be missed. Condolences to the family. Micro-reunion: Jim Adler and Bob Sprafkin at an event at Dartmouth.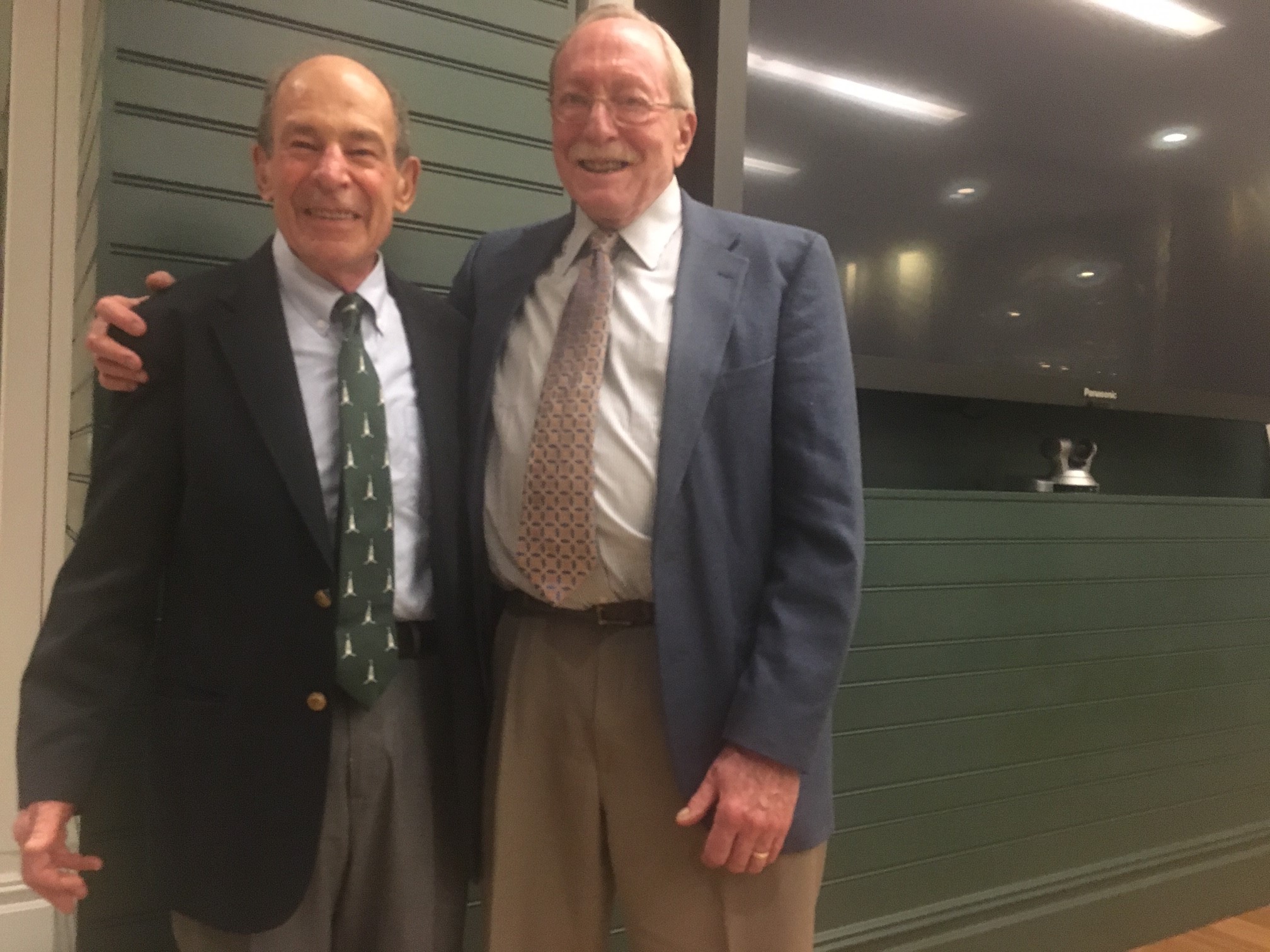 (click picture to zoom)My last year as a kounselor (1960) I earned $250. I believe my last year as a kamper cost my father $525.

Sandy jo
May 23, 2019 08:30:11 (EDT)

Does anyone remember how much it cost for the summer in the 50,s. And how much the young kounselers were paidFor some ungodly reason and out of the blue, I recently thought of my two years at Kamp (1945 & 1946); and went to the iNet finding this site. I was brought up in West Hartford, CT and presently live in Newport Beach, CA. In doing some searching, I noticed another Kamper with an email address... (more)

WFIL
May 1, 2019 12:22:53 (EDT)

Thanks to Jeff Small '56-'58 for sending us these pictures of kamp.I just learned of the passing of Ted Bromwell , counselor at Kamp for many years. Ted Abromovitz , later Bromwell was a retail advisor, First at Litt Brothers Philadelphia. Then he became advisor to Frank Chase who took him with him to Canada when he became President of a company there. Then when... (more)I remind Chuck every time I see him of the Saturday night about 1 A.M. while I was visiting my son. Several counselors were "preparing" the field (Home Plate) for the next day. I was hysterical laughing and commented on how long it had been since had been involved. Chuck turned to me and said... (more)Thanks Chuck--brings back distinct memories--it's a miracle Harry Zavacky never burned down the tentline Dave What would KK Counselors have used as an alternate to gasoline and urine? (more)

Sandy Jo
April 3, 2019 09:35:23 (EDT)

Does anyone know a good immigration lawyer in the western part of CT? Need help getting my wife here from South America. Thanks

WFIL
February 18, 2019 17:00:11 (EDT)

Thanks to Steve Buch ('57 – '62) for sending us these pictures.

Sandy Jo
January 30, 2019 14:00:05 (EDT)

Recently moved to Southbury CT, it is about 20 minutes east of Danbury. Might there be some Kampers in the Area?Good to hear that the Rabbit is still well and hopping!

Chas
January 5, 2019 09:57:12 (EDT)

Alan Weill is still alive. Having lunch in Va. Beach. Rabbit would not be anchoring the Apache but doing great.
---
Show 20 of 1216 earlier messages