WFIL February 18, 2019 17:00:11 (EDT)

Thanks to Steve Buch ('57 – '62) for sending us these pictures.
---
Sandy Jo January 30, 2019 14:00:05 (EDT)

Recently moved to Southbury CT, it is about 20 minutes east of Danbury. Might there be some Kampers in the Area?
---
Joe Greenstein January 6, 2019 16:46:31 (EDT)

Good to hear that the Rabbit is still well and hopping!
---
Chas January 5, 2019 09:57:12 (EDT)

Alan Weill is still alive. Having lunch in Va. Beach. Rabbit would not be anchoring the Apache but doing great.
---
david rutstein November 19, 2018 14:37:39 (EDT)

While reading the book, The Game by George Howe Colt (about the celebrated Harvard-Yale 1968 football game, I was startled to read a description about "a formerly skinny little kid from Harrisburg with thick black glasses who was desperate to prove that he was one of the guys." The author describes in vivid detail (over many pages) the saga of this former high school quarterback who ultimately becomes the very popular star safety at Yale. He also mentions a setback in this player's career when he broke his left wrist at a "sleepaway camp" (spelled incorrectly with a "c"). The player's name? Joseph Phillip ("J.P.") Goldsmith. Dave
---
Alex Breezie Stein November 13, 2018 11:51:33 (EDT)

I think that some of the other people in Jerry Adler's 1953 still picture include Peter Greenberg,second from the left, Dave Wolk, third from the right, and Roger Thanhauser on the extreme right. If I am wrong, please correct me. Kee Kee Wah,

Breezie
---
Steve Buch November 13, 2018 06:20:57 (EDT)

Very sad to hear of the passing of fellow Harrisburg Kamper and good friend Randy Coplin. Rest in peace my friend. https://www.behnerfh.com/notices/JayRandy-Coplin?fbclid=IwAR2JS1RKOYEkVcNQbyYwbJ9Hi5Fmb0MdAOJt_XyM9zvJOwolSOw131YjzLs
---
Chuck Half October 29, 2018 16:29:54 (EDT)

Living at present 15 a minute drive from the Pittsburgh synagogue murders, and with Fred, Bill, and me growing up a frequent 5 minute bike ride from there, this made sense to me on Saturday is my navigational buoy..."Let us not seek the Republican answer nor the Democratic answer, but the right answer. Let us not seek to fix the blame for the past. Let us accept our own responsibility for the future." -- John F. Kennedy...Far to disturbing to even be surreal.
---
Bob "Tiger" Levy October 28, 2018 13:27:09 (EDT)

I have pretty-well stopped looking at TV news. But I saw just enough about the Pittsburgh synagogue shooting to make me think of the many kampers who were from Pittsburgh. To them--too all--I send hopes that they, their families, their friends are safe and at peace.

KKW
---
WFIL October 26, 2018 11:43:50 (EDT)

Click to watch this entertaining KK video made by Jerry Adler '44-'53. He also sent us this picture taken in 1953: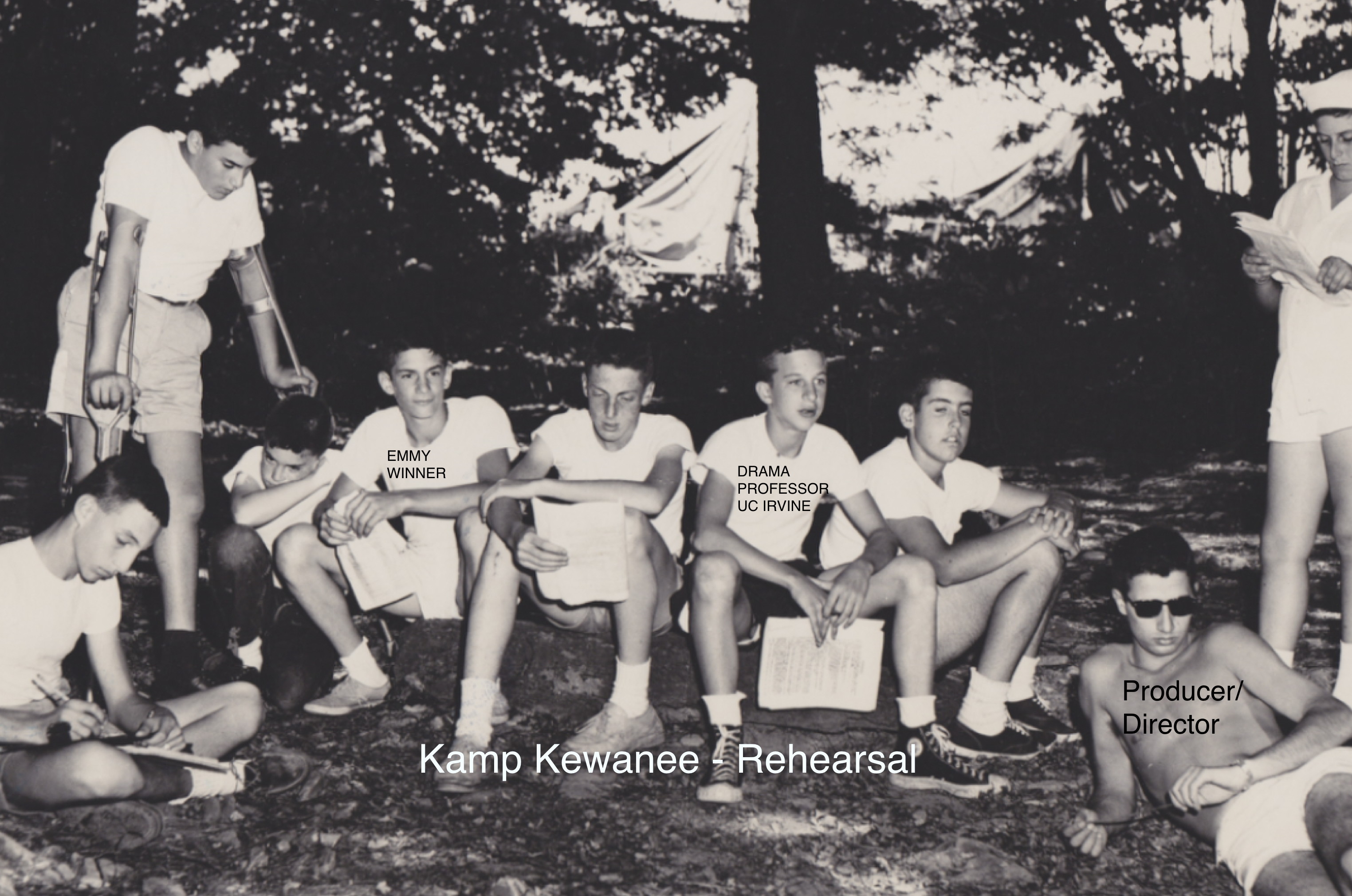 In this photo, we see an Emmy Award winning comedy writer (Lee Kalcheim), a respected drama professor at UC Irvine (BS Cohen), and a Hollywood producer/director (Jerry Adler). At far left is Saaaaam Straus who also had a long career in broadcasting. (Can anyone help identify the other people in this picture?)
Thanks, Jerry!
---
Steve Buch October 22, 2018 19:54:26 (EDT)

One of our local photographers created this video. Does anyone recognize anything? I sure do! Follow the link.
---
Mike Corson October 16, 2018 08:45:19 (EDT)

I have made the move from my house to a retirement community. My new address is:

280 Middle Holland Road
Apt. 1202
Holland, PA 18966
---
joel Richman October 7, 2018 19:47:55 (EDT)

Okay, let me clarify. I have fond memories of my 5 years at Kamp. I know what you were thinking!
---
Joel Richman October 6, 2018 18:14:26 (EDT)

After all these years, y'all have found me. Barring any problems, I will be at the 2019 reunion. You'll find a pic of me in the "1973 National League" pic. Kneeling row, first on the right. God the haircut!!!. Fond memories, took a few young ladies to the site while the platforms and buildings were still up. Then, I heard, it turned into a Fleetville development. Hope the rest of the 1973 National league can make it! JR
---
Sandy Jo October 2, 2018 01:16:52 (EDT)

I need some help. Is anyone out there a Immigration Lawyer or who knows one excellent one with connections to the US Citizenship and Immigration Service. Or who is a Congressman or Senator or who knows one. I have just gotten married at the ripe age of 74 and need help getting my wife from Lima Peru to the US. You guys can reach me at 954-536-2539. Thanks
---
Phil Siegle ['60-'67] (via WFIL) July 14, 2018 17:21:09 (EDT)

I had a wonderful lunch today with John Harris ['59-'62], a Kewaneean who lives in Berkeley not far from me. He is from Pittsburgh and he grew up with Lee Wagman ['59-'66] and Tom Levine ['59-'70]. He went to Harvard undergrad and to medical school out here at UCSF. I didn't know he went to high school at Lawrenceville right near where I was at high school at the Hun school of Princeton. He has 3 grand children with one on the way. I have attached a photo of the 2 of us at the Slanted door restaurant at the Ferry building in downtown SF. Phil
---
WFIL July 13, 2018 15:30:45 (EDT)

Moose Adland sent us to this website featuring photos of summer camps in the 1910s and 1920s. I think you will enjoy it.
---
Alex "Breezie" Stein July 7, 2018 11:27:01 (EDT)

This is truly sad news about the passing of Peter Rapp. He was my first counselor in 1951 in Tent 3 with Fred Wolfson and Steve Shenkin. I would see him at reunions and we would reminisce a bit. A terrific guy. I will miss him.

Alex "Breezie" Stein
---
WFIL July 4, 2018 18:49:28 (EDT)

On a more upbeat note, Knocker Knocks go to Lee Kalcheim for the opening of the world premiere, in the Berkshires, of his musical production - a play about Irving Berlin, Harold Arlen and Jimmy Van Heusen - Coming Back Like a Song. Performances through July 21st. Catch it if you can. Looks like great fun! Congratulations, Lee! Thanks to Donn Rosensweig for the heads-up.
---
WFIL July 4, 2018 16:09:35 (EDT)

Sad, sad news. Peter Rapp passed away yesterday.

I just heard from him a few days ago:

Unfortunately, I won't be available to aid or appear [at the next reunion]. I am not able to drive and I am now in a wheelchair, and have now a limited timeline, with the advent of a fatal disease, Pulmanary Fibrosis. Good luck and Keekeewa to all. Keep me posted on progress.

We will miss you, Peter.
---