Had a nice visit today from Alan Monheit who just moved to Bucks County from Long Island. It was great catching up after 58 years! We may have seen each other at a reunion or two, but this was our first chance to chat one on one. Kee Kee Wah!Postcards from ~1968-1970 (click to zoom)

WFIL
May 15, 2020 14:15:20 (EDT)

I have just added another section to the website - the As world events become more intense, our thoughts return to Kewanee and our summers in tents.

WFIL
April 16, 2020 14:15:17 (EDT)

I'm sorry to report that we've lost another loyal KK alum, David Breakstone ('49-'54).

Serving as captain of the 1954 Red Team at Kamp Kewanee was one of his proudest memories.
Sandy Jo
April 7, 2020 19:30:55 (EDT)

Has anyone thought about doing a reunion on the internet?
Right now my High school class of 1962 is putting a ZOOM meeting together. We started collecting names 24 hours ago and right now we are up to 37. This includes people from the United States, and the Pacific Rim. With everyone having not much to do but sit around, this could work for us. Anyone interested?

Sandy Jo
March 27, 2020 22:06:34 (EDT)

Amen DaveThinking about all KK'ers hoping you are safe and well. Wish Mary Wren were around to solve this medical problem--although a bit more difficult than cracked toes. All of us must exercise patience so that we don't become patients. Dave Rutstein

Moose (posted by WFIL)
March 22, 2020 15:08:04 (EDT)

Jon (Moose) Adland made these remarks at the 2019 Reunion:

Kamp Kewanee 2019

It is hard to imagine for me that in 2020 it will have been 50 years since my final summer at Kamp Kewanee. The images are still so real in my mind: the tents, the mess hall, the flag raising, inspection, all of the ball games, color war, the lake, and the friendships. It was a long time ago, but I think most of us feel it was just yesterday. I retired from my last congregation in Canton, OH on June 30 and over the last few months packed up my office. I gave away a lot of books, wrapped up mementos, but there was one unique box that I packed. It was filled with moose—stuffed moose, canned moose, wooden moose, other moose—of various sizes and looks. Most of these had been given to me as gifts by congregants as they heard about my nickname. Except for the dozen or two that sit in various places around my home from a moose menorah to a fishing moose to a beautiful photograph of a moose, most will be in a box that I hope to give to grandchildren or some day maybe just give away.

At the final light-hearted bbq that the congregation gave for me, I told them about how I got the name from Harry Zavacky and how some younger kampers never knew my name was Jon. In July, I went on a retirement trip to Canada and glimpsed a moose and this always brings me back to Kamp. I know the property has gone to seed from what I understand, and the buildings have crumbled. It is sad because that place held such a force in us, but we all know that Kamp Kewanee is more than just the place. Like many kamps across the country, those summer days of youth place a vital role in developing our skills, our ability to live and work with others, and for me how to win and lose with grace and kindness. Kamp Kewanee helped build our characters. The camps my children went to continue to play a vital role in their lives and shaped who they are today. Kamp Kewanne is unique to us, but camp and its impact is awesome to so many.

I don't know how many more times we will get to gather and celebrate this incredible place of our youth. These reunions have been important and worthwhile for me who came in on the last years of the kamp to meet the people and hear from the people on whose shoulders my experiences stood. None of us walked away from LaPlume unchanged. I know that my years as a rabbi, the leadership and the ability to work with others was largely formed in LaPlume, PA. I don't mean to be somber and I could certainly tell funny stories, but at this point Kamp Kewanee is deep in my soul and that is where these thoughts come from today.

So how do you explain to the uninitiated this Kamp? Today camps try to be electronic free telling parents to keep their kids cell phones at home. Some parents don't send their kids to camp if it doesn't have air conditioning. Parents fret over their kids being gone for two weeks or just under four. Their kids will undergo dramatic changes and they won't be present for those moments. We went to camp for 8 weeks. Saw our parents for one day (and many of us couldn't wait for them to leave) and didn't speak to them any other time. And YES! we changed—wasn't that the point. We grew up a little and maybe became a better ballplayer or woodworker or butterfly catcher and before my time a marionette person. We may have acted in a play or spoken before a group that we just wouldn't do at home. We canoed and sometimes got naked. We made fun of each and loved each other and cried when it was time to go home. We ate food that was at times unrecognizable, but we didn't totally complain, but boy did we enjoy our night at shadowbrooke or at the Fleetville Fair. Does that fair still exist? (The answer is yes, but it now happens in September). We cheered each other on and got over our losses because there was another game the next day. Yes mom and dad we grew up and kamp and that is the point. We lived away from you for two months and lived with you for 10 just waiting for the next 2 again.

So let me say this—none of us knows if we will gather again, but if we do I will be here, but if this is the last one then I say thank you to those whose stories have enriched my time at Kamp Kewanee and I say thank you to those who were there with me.

With my rabbi hat on, blessings to all of you for having made my life better.

Thanks Mike for the kind words and you nailed what the reunion means to so many of us. KK will always be a part of us no mater where our journeys take us. I hope we can do this again even as the numbers continue to diminish slightly.

Stay safe everyone.

WFIL
March 19, 2020 22:39:34 (EDT)

The web site is back after a hard drive failure.

KEE KEE WAH

WFIL
January 30, 2020 20:13:19 (EDT)

Mike Lowenstein sent this in shortly after the reunion:

Reunion highlights for me [Mike] included:

1. Seeing old friends, especially the "Kid's Table" discussed below.

2. Some really moving words from Moose, befitting a recently retired rabbi, and some other speakers, that will lead me to purchase the Divad DVD using the attached Old Dominion Broadcast Form.

3. Seeing Ricky Macey for the first time in 50 years. Not only was he my first Red and Black captain (who won by a huge margin) but, as I reflected on it on the drive home, a few years later, at one of our overnights, at a time when I believe he was a visitor and not a counselor, he led the best dirty joke telling session of my entire life.

4. Meeting some new friends, including Fred Half and his very lovely wife, and WFIL's mom.

5. Parts of the Pitt-Penn State game.

6. Tripp's wife Barbara remembering Doug Bradley as the guy who ran the Jeopardy game.

7. Visiting with John Spear and telling him he better get back to the main table if he still wanted to have a girlfriend: "I am not that easy to replace."

8. Some really awesome photos, especially for our age group, that Greg Morris drove much of the night to bring, and from Fred Half, in the attached reunion program.

WFIL
January 15, 2020 19:01:16 (EDT)

Lou Moskowitz gave this speech at the September 2019 Reunion:

Kamp Kewanee was founded in 1916, in the middle of World War 1, five score and three years ago. That's 103 years for those that think that "score" means something else. When Lincoln delivered his Gettysburg address, in 1863, in the middle of the Civil War, he started with "Four score and seven years ago,…", or 87 years since the Declaration of Independence was signed. So, for those keeping count, we out-scored Lincoln by 16 years.

Kamp closed 46 years ago, yet we continue to gather to celebrate what was and to renew old friendships. Exactly what it is that repeatedly brings each of us back, after all these years, varies, but includes a shared set of experiences, during a critical period of personal development. Much, of course, has changed over these 46 years. For example, I can no longer type Kamp Kewanee with "K's without my spelling auto-correct changing the "K" to a "C" and Douglas DC-3's no longer land at Avoca airport with kampers emplaning. But, the essential Kamp experience seems to have varied little from the beginnings of Kamp in 1916 through the final taps in 1973. For me, the magic was always with the experienced teachers and others turned kamp counselors; men like Frank Dolbear, Dave Sechrist, Bonnie Sabatini, Ted Pawloski, Eddie Chiampi, Johnny Ludd, Harry Zavacki and Dick "Nehru" Sundheim, to name but a few from my era. So, drink your bug juice, go on a nature hike, take your compulsory dip, dust off your pump lamp, get ready for inspection, paddle your canoe, compete in Red/Black tug of war, listen again to your favorite Gilbert and Sullivan operetta, identify that small butterfly with the red stripes that just landed on your deck chair, as a Red Admiral, and listen to a trumpet playing revile and, later, taps. Smile at what was and that helped get you to who you are today. Be grateful.

Kee Kee Wah.


At the time I went to KK I was known as Ernest Schlosberg, my mother's married name. I went to one reunion, which was in the year that the camp closed, but can't remember exactly when that was. What year did the camp close? I walked away from that reunion with the 1947 plaque, the ones which circled around the room in the lodge--my name is on it along with D. Lorch. He wasn't there, so I got to take the plaque home. Thinking of attending the next reunion. Thanks in advance for your reply. Ciao, Ernie

WFIL
January 2, 2020 15:59:21 (EDT)

Rick Vatz gave this speech at the September 2019 Reunion:

My Kewanee -- Rick Vatz

Greetings and Kee Kee Wah to all of you. This would have been a one-hour speech, but Bugs Melnikoff told me earlier that I could not repeat anything I had said at earlier reunions, so now it is about 5 minutes.

I imagine that many of us have changed over the years and not just in our maladies from aging. Personally, I am happily married to my one and only wife and have 2 wonderful children and 2 wonderful grandchildren.

At Kewanee, I was a Pirate fan and still recall Johnny Spear's singing "For I am a Pirate fan,"¯ I was a Steeler fan, which my wife and I still are, despite the drubbing we received last Sunday at the hands of the Patriots. But foremost now I am a Baltimore Orioles fan and a Baltimore Ravens fan, but I still love the Pittsburgh teams from the early days. My wife, incidentally, won't watch the Ravens, except out of loyalty to me.

I still play tennis the same deplorable way, but I no longer win many sets.

Yes, Kamp Kewanee made most of us competitive life-long, and that great kamp has had effects on me throughout my life.

In fact, I owe a tremendous amount to Kewanee, especially my years as a kamper.

My days as a kamper were almost ideal.. My first year I had Roy David as a kounselor, one of the neatest guys I ever met.

My other favorite kounselor was George Koval, and I with Bobby Wertheimer worshipped him…so neaat and cool and an adult at an early age.

Foster Goldman was my Kounselor in the ensuing year, and he was always getting into squabbles due to his urbane humor and the lack of such in one or two of the other kounselors. There was a counselor whose name some of you will recall, but I don't, nicknamed "Tarzan."¯ We had a swim meet and Tarzon started shrieking at Foster that his – Tarzon's – rules would prevail in tn the competition of ten year-olds. Tarzon, who could beat up 99.99% of the earth's inhabitants, prevailed, as Foster said, "O.K., we'll do it your way."¯ Tarzan, however, did not return to Kamp Kewanee.

One of Foster's persuasive strength's was that he was related to the owner, and that seemed to resolve a lot of problems, just not immediately.

I learned from that situation that it was good to be close to those with power. I was very close to the Governor of Maryland from 2003 to 2007, and I taught the wife of the next one, Martin O'Malley, and I am sort-of buds with the current one, Gov. Hogan and have had him speak in my class and his Lieutenant Governor is speaking in my class in a couple of weeks.

Some of you know that I am a political conservative, and yet Nancy Pelosi spoke in my class last October, and she was great,

I have, as a result of Joe Ludgate and Dave Sechrist's performances, a love of Gilbert and Sullivan, always loved Pirates of Penzance and H.M.S. Pinafore and Trial by Jury. I still sing songs at home that I learned from Johnny Spear. My wife, once a professional singer, cautions me that he ain't no Enrico Caruso, whoever that was.

There was Jimmy Samter – one day I was walking to my tent, and there was a dozen kampers surrounding Jimmy. He announces that he could blow smoke out of his mouth without smoking. He did so, but to this day I don't know if medical science can explain it.

Due to him and the late, great Bobby Siegel, or Soggy Bagel as I believe he was then known, I have never smoked. One day in his tent when I was about 12, I said that I admired his smoking and was ready to try it myself. He said, O.K., here is a cigarette; take a puff. I sort of did and Bobby said, that's not how you smoke; inhale the smoke!"¯ I did so, and after recovering 5 days later I knew that I would never smoke again.

I adored Sam Strauss (Sa-am – and I confess I do not know the originator of that pronunciation of his name or why the entire kamp uttered it when technology broke down in the lodge) who ran the Kewanee Theater Guild for a while and one of my other absolute favorite counselors was Mike Courson, although Bobby Wertheimer and I argued whether he or George Koval was a better counselor. I should at this point always make the argument that I adored Henry Mosler who convinced me as a ten-year-old that when I called Sam Snead "Damn Sneeze,"¯ I was making a hilarious joke.

My adulthood has benefitted from other Kewanneans, such as the late Bruce Kaufman and especially, perhaps, Robert Cohen who when I told him I was writing a book on Persuasion -- which book came out a years ago, by the way -- told me he had done a play on Machiavelli. B.S. Cohen on Machiavelli? Never would have guessed it.

I was told repeatedly that Breezie Stein was the coolest guy ever. I talked with him at length last night, and he still is the coolest guy ever. Trippy looked half his age at kamp and still does.

Dave Rutstein's photographic memory is still on display, as of this morning.

There are so many other people as well to whom I admired additionally to the ones I have named, people who simply made Kewanee a great happy and enjoyable experience, such as Steve Moses, Gordy Lawrence, Lou Moskowitz, Steve Klein, Nehru, Johnny Samuels and some others here today. There were so many just wonderful additional people that it would take forever to name them all.

All in all, Kamp Kewanee produced so many seminal memories, memories which have helped me in every aspect of life; I shall never forget you, or at least many of you.

Richard E. Vatz, Ph.D.

Towson Distinguished Professor
Towson Student Government Association first Faculty Member of the Year, 2009-2010
Professor, ILPD; University Senate since 1980; Towson University
Blogger, Red Maryland
Thomas Szasz Civil Liberties Award
Psychology Editor, USA Today Magazine;


WFIL
December 23, 2019 18:07:39 (EDT)

Linda Goldman sends this pic of Foster, Bob Shoenberg, and me (WFIL) at the September reunion.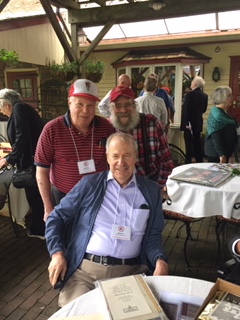 WFIL
December 21, 2019 18:33:53 (EDT)

Just sent in: Mike (aka Barrel) Lieberman and Bob Sprafkin together for the first time since 1958. (click to expand)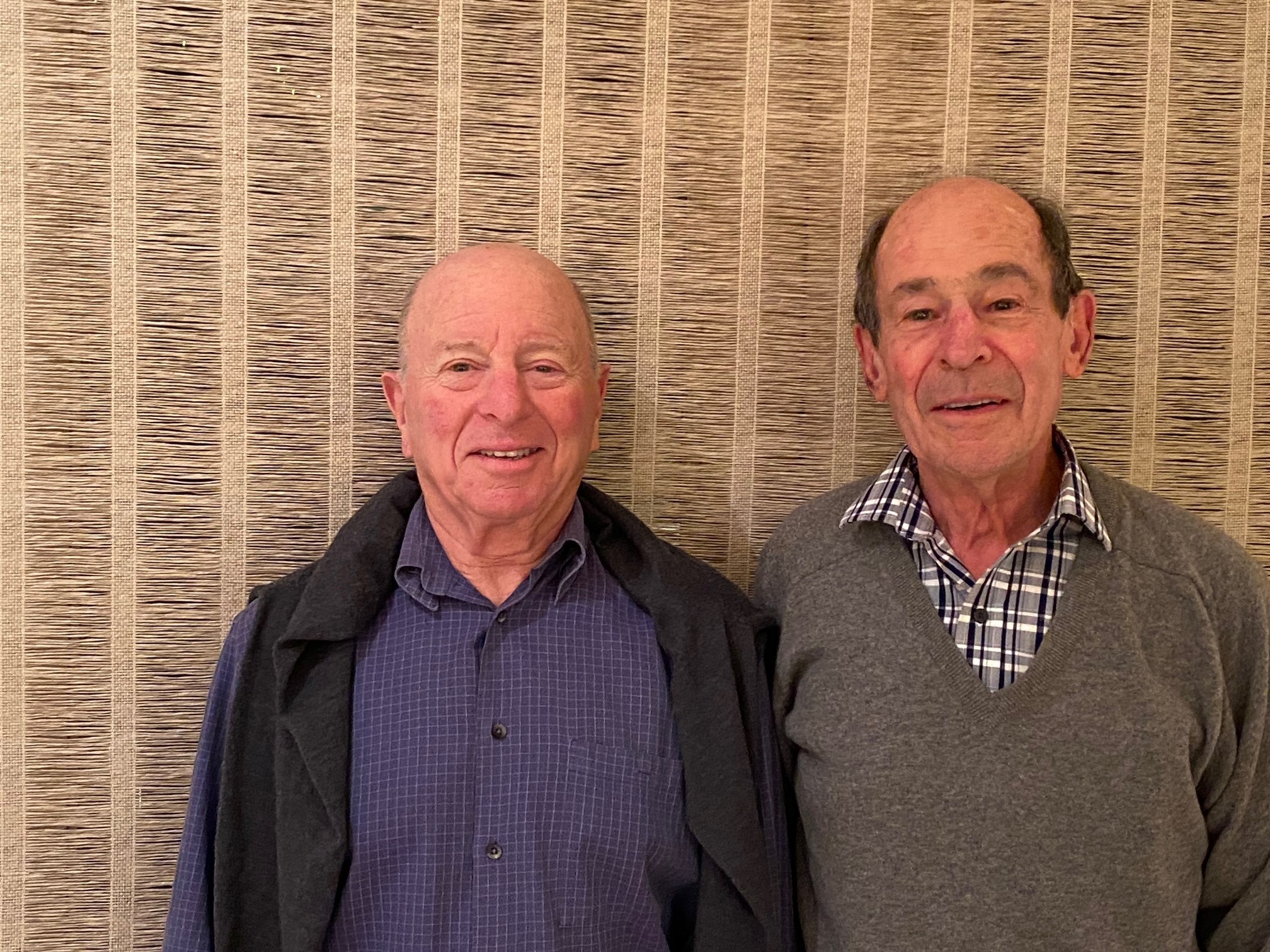 Sandy Jo
December 15, 2019 18:51:37 (EDT)

Thanks , I am now living in Southbury Ct, Heritage Village, and one of the people I have met went to Dallas High School and mentioned that the Football Coach there had just reach 103 years old, that would be Bob Dolbear, will tell her the connections to Bob and Frank and Kewanee, hopefully he has all his memories of times gone by. Thanks Again

WFIL
December 13, 2019 17:20:03 (EDT)

Sandy Jo - I think it was Robert (Bob) Dolbear, Frank's brother, who taught at Dallas High. Last I heard, Bob is still with us at age 103, living at the Village at Greenbriar in Dallas Township. The article goes on to say, Bob Dolbear was principal of Dallas High School and is credited with starting the old shoe football game between rivals Dallas and Lake Lehman. See also news of his 102nd birthday. Bob was a kounselor in 1938 and 1939, and again in 1954.

Sandy Jo
December 7, 2019 19:20:32 (EDT)

Does anyone from the 50's era remember if HC - Frank Dolbear was a football coach at Dallas High School? If I remember right he had a son Trenny(?) who was at Kamp.
Thanks

Sandy Jo
December 5, 2019 20:57:22 (EDT)

HAPPY HOLIDAY TO ALL KAMPERS AND THEIR FAMILYSorry I missed the reunion. Just too much going on. Downsizing at age 70 is not easy! Anyway I came across three LP records. I think they came from my cousin Michael "Harrisburg" Coleman. One has a yellow label that just has Kamp Kewanee printed on it and "Bob Stephens" written in script. The other two are from the 1953 Marionette Show, Once Upon a Legend. They look pretty rough, and I have no way to play them. If anyone wants them, let me know at sbuch490@gmail.com. I'll be happy to send them. Kee-Kee-Wah!